Karin Bos
Amsterdam, The Netherlands
Karin Bos graduated from the Amsterdam School of Fine Arts in 1989. She currently lives and works in Amsterdam, the Netherlands. Her main media is painting on paper.
People are the main focus point of Karin's work. Especially their mutual relative power and relations have interested her. Frictions and inequality in these relationships is a recurrent theme. For instance, between man and woman, or adult and child, or children among each other, group behavior versus the loner. When the pursuit of harmony fails, it becomes interesting within her work. In Karin's recent work, there is a shift towards the landscape. She asked herself if she was able to tell something about people without having them literally in sight. It resulted in fairytale-like landscapes with an ominous undertone, where always something odd is present.
There are periods Karin prefers to work fully concentrated in her Amsterdam based artist studio. There are other periods she needs to get out and travel, to collect new source material. For her it is essential that her work comes from her own experiences and impressions, also the figures in her work are based on acquaintances, friends, family or herself.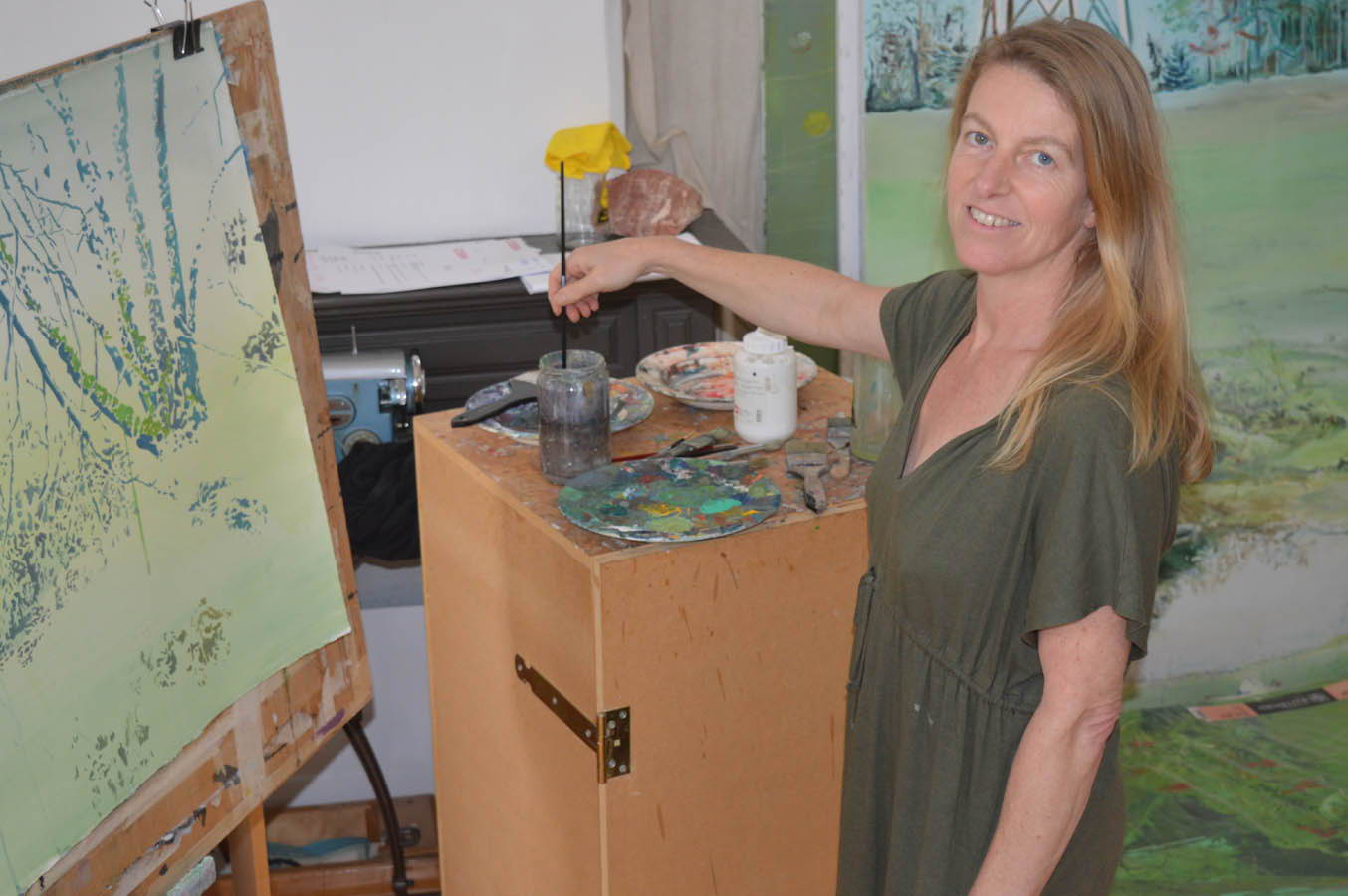 These paintings of barns, sheds and abandoned caravans in harsh landscapes get their suspense no longer by the act or look of the main character, but by the use of color, light and the way it is painted. The suggestion in her work is important. It evokes a cinematic world, a world of stories, where nothing is what it seems, and where a merry holiday scene could as well be the site of some crime. This tension, this ambiguity is what interests Karin as an artist.
In the Netherlands infrastructure and urbanization are so widely present that it is difficult for her to find landscapes she can use as a source for her work. All Dutch 'nature' is planned, organized and designed. To develop her new series of work she needed more varied source material. Therefore, Karin has done several artist-in-residencies in Spain, Latvia, Iceland, etc.
These landscapes and atmosphere have become a huge source of inspiration in her artistic work. What attracts her to this space is the variety, the colors, the vegetation, the light, the power and roughness of the scenery. It is not there to please. It has a dark side, which fits her work very well.
More Artwork By Karin Bos