Melanie Biehle lives in Seattle, Washington with her husband, their hilarious eight-year-old son, and favorite dog. Her paintings are fueled by exploring the world.
Melanie draws inspiration from the often opposing energy of the city and the sea. Up close, she zooms in on the shapes and patterns of architecture or coastal rocks. Taking a step back reveals an expansive view of endless ocean waves or gleaming architectural skylines. Both views are essential in creating her abstractions – in mood and in content.
Her path to becoming an artist was filled with twists and turns. In a former life, Melanie was a writer, photographer, and marketing consultant. She wrote and optioned a romantic comedy screenplay and used her Masters degree in psychology and years of marketing experience to help major Hollywood movie studios market their films. After she had her son, she taught herself photography, art direction, and graphic design. She spent a few years writing about artists and photographing inspiring studios and shops for an online magazine in Seattle. During that time she also worked as a marketing and graphic design consultant for other creative professionals.
After spending so much time immersed in the lives of working artists and designers, she began to consider her place in the creative landscape. This introspective period ultimately led to a visual art practice, starting with abstract composition and abstract painting courses at Gage Academy of Art in Seattle in 2014.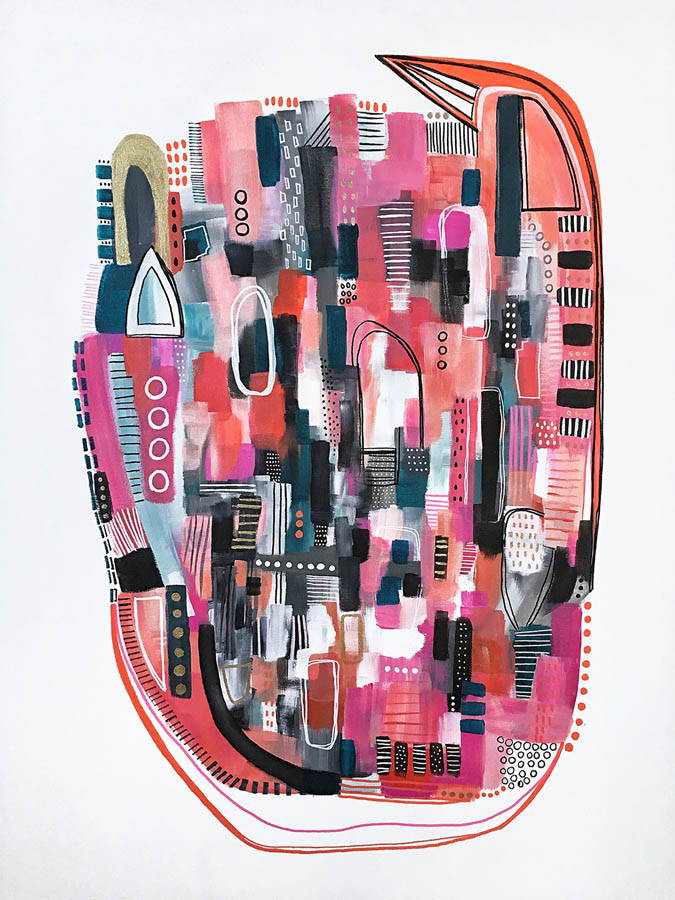 In 2015, she completed a 100 Day Project where she challenged herself to paint or draw graphic patterns for 100 days in a row. That's when her life started to change. She was hooked – and not just on the output she was creating. Painting had a remarkable positive effect on her lifelong struggle with anxiety. Sitting quietly and brushing color on paper left her nearly as calm and centered as her newly developed meditation practice.
Melanie often uses her intuition as inspiration in itself. She tends to start a painting or by determining a color palette before she even begins to think about structure. Her process is very intuitive – she's not afraid to completely change directions in the middle of a piece if it doesn't feel right. She is inspired by the architecture and energy of cities and the movement and meditative qualities of oceans and lakes. A sketch she starts can end up as part of a pattern in an abstract painting later, or maybe it just remains a sketch. She's open to inspiration during the process. The process of drawing, painting, and experimenting with colors is inspiring in itself.
Melanie's work is strongly influenced by street art, mid-century modern textiles, and Southern California surf culture. She loves Richard Diebenkorn's abstract paintings, especially the color and light in the Ocean Park series. Like Diebenkorn, Melanie lived in Santa Monica for a short time. His abstracts return her to the California coast, capturing the ocean air and light.
"A lot of emotion goes into my work," Melanie says. "Painting is a joyful experience for me, and I believe that the joy I feel is transferred through my art into the homes and work environments of my collectors."
More Artwork By Melanie Biehle