Melanie Biehle
Melanie Biehle is a painter, writer, and thinker. She studied abstract painting and composition at Gage Academy of Art in Seattle and has a master's degree in psychology. Melanie has always been obsessed with the mind and emotions and deeply moved by beauty and meaning. She combines writing and psychology to create abstract paintings – first by exploring ideas and words, then translating emotions into color and form.
Along with the inner workings of the mind and the mysteries of the universe, Melanie's artwork is also inspired by the often opposing energy of the city and the sea. Up close, she zooms in on the shapes and patterns of urban architecture or coastal rocks. Stepping back reveals an expansive view of endless ocean waves or gleaming city skylines. Both views are essential in creating her abstractions – in mood and in content.
Before Melanie became a painter, she wrote and optioned a romantic comedy screenplay and worked with major Hollywood movie studios to help market their films. After she had her son, she taught herself photography and graphic design. She began writing about artists and photographing inspiring studios and shops for KOMO News' Seattle Refined, and shooting artists and interiors for Luxe Magazine.
Spending so much time immersed in the lives of other artists and designers led Melanie to consider her own place in the creative landscape. This introspective period led to a visual art practice in 2014, starting with abstract painting and composition courses at Gage Academy of Art in Seattle. She committed to a life as a full-time artist after completing a 100-day painting project in 2015.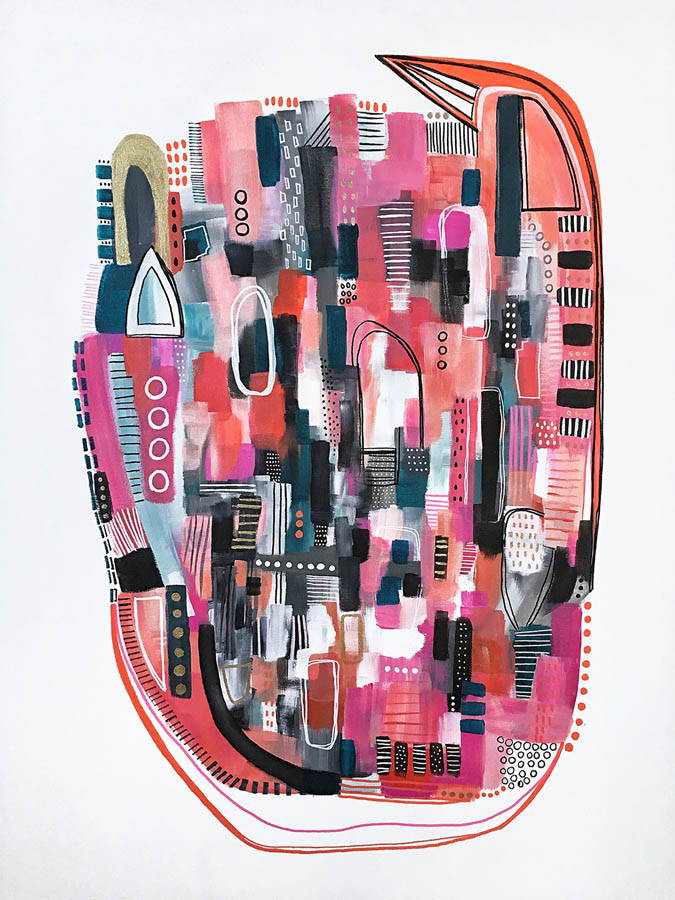 Now Melanie provides private collectors, art consultants, and interior designers with unique abstract paintings and vibrant fine art prints to calm or energize their environments. She also works one-on-one with art collectors who want to bring their creative vision and style into their homes through custom abstract painting commissions.
In addition to creating art for residential and commercial spaces around the world, the artist often partners with companies who elevate their events, products, and marketing by commissioning unique original artwork. Melanie has worked with teams who have commissioned, purchased, or licensed her art for photography backgrounds, digital art installations, apparel, stationery, and promotional materials.

"A lot of emotion goes into my work. Painting is a joyful experience for me, and I believe that my joy is transferred through my art into the homes and work environments of my collectors."

Melanie was born in rural Louisiana but feels most at home on the West Coast. She bounced back and forth between Seattle and Los Angeles since 1999, finally landing in Seattle for the fourth time in 2008. She currently lives and paints by a lake near Seattle with her husband, son, dog, and cat.
More Artwork By Melanie Biehle