Kimmy Quillin
Kimmy Quillin is always excited about book recommendations, reactions to her work or art in general, great coffee shops, museums and still being in love with NYC.
Kimmy's life is a wandering road of creative experimentation. Childhood was a stream of intense phases: painting, drawing, clay, sculpture, crochet, sewing and more. Her bedroom was wallpapered with brightly colored cutouts from magazines, and she painted and découpaged every piece of furniture her parents would allow. Through school and beyond, her focus followed textile arts, channeled into brightly colored handmade bikinis and embroideries. Painting began with a naive experiment on old shelves using ancient acrylics and cheap sponge brushes. She transitioned onto canvas, uncovering an insatiable practice of color expression that she has gleefully followed for many years.
Color is of central importance to Kimmy's work, whether bold geometries of solid color or swoops of bending backgrounds. Unexpected harmonies and borderline discords balance precipitously on their proportions and spatial relationships. Her favorite is to let her eyes travel over a work, finding the special juxtapositions or interactions that seem like a little smirk or a quiet joke. She finds the paintings to be playful and tender but also to give pause.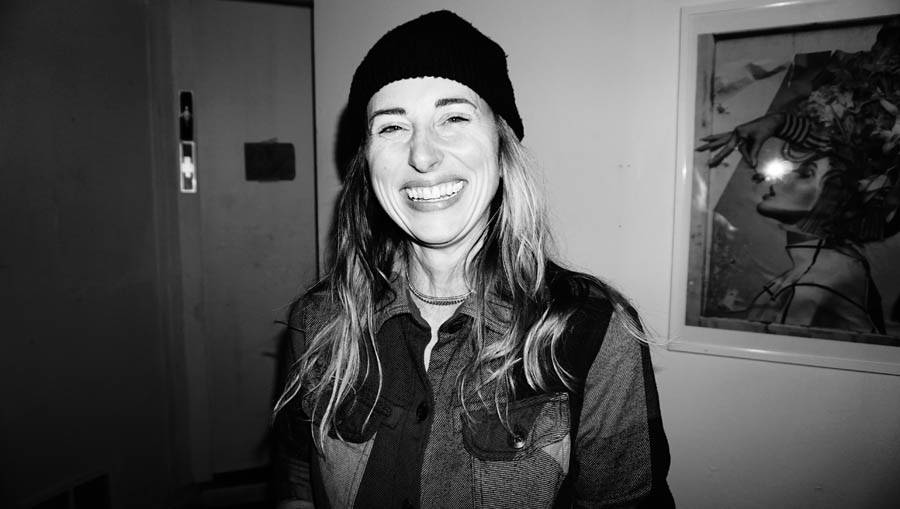 Often, she is lucky to see a painting flash behind her eyes complete, usually while settling down to sleep or letting her mind wander as she walks. Other times, she works up a palette by physically pairing different paint tubes along her work table. The key is in stopping herself at the right moment, powering through the point when she thinks a painting is "ruined," or guarding just the right square inch to shine through in the finished piece. Though static in its completion, painting is about timing: knowing when to tinker and push, knowing when to pull back and let it rest until her eyes are fresh again.
She has such a malleable mind; her influences are as numerous as the stars! Currently, she is channeling the wisdom of her teacher Maria Cutrona; the colors of Lisbon and tanned leather goods of a.b.k. NYC; the compelling artwork by Carmen Herrera, Frank Stella and Caroline Walls; and the musical vibrations of Laraaji, Alice Coltrane and Julie's Haircut.
More Artwork By Kimmy Quillin